Upon request we provide one-on-one sessions of Pilates, Yoga and Yogalates (a Yoga/Pilates class that combines torso stabilisation and abdominal muscles strengthening from Pilates exercises with whole body stretching practising in Yoga sessions). We offer flexible class schedules to make it possible for you. Furthermore, we offer individual classes for a closed group (two friends, partners, etc.). Our instructors are highly skilled at "healthy" way of Yoga and Pilates practices. Check out these safe and gentle exercises in Studio Yogata which quickly help you relieve low-back pain or shoulder stiffness caused by sedentary lifestyle.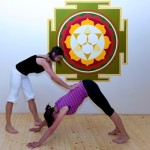 Are you interested in our classes? Do you have any questions? Do not hesitate to contact us at  yogata@yogata.cz
We understand that unpredictable events can happen, however, take into consideration that there is no fee when the appointment is cancelled 1 day (24 hours) in advance. Then we can offer the free slot to anybody else. If you cancel later, we charge 50% of the price. If you are no show, full price will be charged. If it is an extreme circumstance and you are a reliable client we can make agreement.